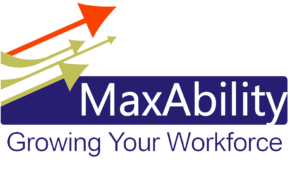 UPCOMING EVENTS:
Have a wonderful Holiday Season!
We are excited to kick off our 2022 events and will have more information on how you can participate soon!
---
Past Events:
IDPWD 12/2/21- Check back for a recap of this amazing event!
---
Bite Sized learning modules for employers, introduced in October 2021, are full of information and resources: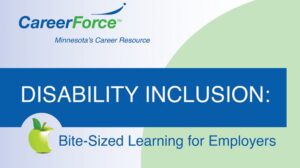 https://www.careerforcemn.com/disability-inclusion-bite-sized-learning-modules 
---
Career Connections Career Fair — 10/07/21
Employers were excited to connect with over 60 job seekers!
Comments we heard from job seekers included:
"This event was very helpful. I was able to set-up an in-person interview with [an employer] who I applied for."
"I appreciated the smaller intimate atmosphere of this event."
"I liked how there was a lot of employers to choose from."
Many thanks to the following employers who actively engaged in
Career Connections:
Ability Building Community (ABC), Avra Hospitality, Charter Communications, City of Rochester, Fastenal (Winona), Jennie-O Turkey Store, Kwik Trip, McDonald's, Mayo Clinic, Nexus Family Healing – Southeast MN Crisis Center, Olmsted County, Pace International, , Seneca Foods, Think Bank
---
MaxAbility Quarterly Network Meeting – 8/18/21
Recognizing and Implementing a Request for Reasonable Accommodations
Our key takeaways from the meeting included:
The best place to start is asking employees what they need regarding reasonable accommodations. Employees have lived experience and can work with their employer to find creative solutions.
A welcoming environment where employees feel supported sets the stage for interactive conversations to happen.
During new employee training, it is important to introduce new tasks one at a time and use a layered approach. This helps ALL employees to be successful.
Watch an Employee/Employer Success Story
Download the Bite Sized Learning Take Away Card
---
Film and Panel Discussion, Hearts of Glass June 2021
---
"Building an Equitable Workforce" presented by Angie Guenther, Metro Regional Quality Council Recording
---
2021 MaxAbility Reverse Job Fair Recording
---
MaxAbility Quarterly Network Meeting Recording – 2/24/21
Passcode: WKz7E9.q