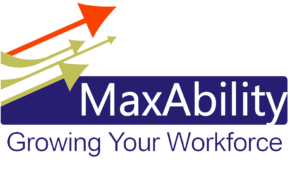 UPCOMING EVENTS:
June 6-9, 2022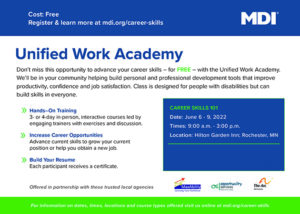 The Unified Work Academy is a free 4 day workshop to help job seekers build personal and professional skills that improve productivity, confidence, and job satisfaction. Participants will spend 3 days building and practicing work skills. On day 4, they will attend a job tour with a Rochester employer to learn about positions at that company.
Or click this link:
---
Past Events:
4/21/22 – 2022 Reverse Job Fair
…………………………………………….
The team at MaxAbility would like to extend our gratitude to everyone who attended and participated  in our Reverse Job Fair. 125 Live was buzzing with activity and the excitement was infectious!!
This is a collage of photos with candidates speaking to employers.
---
3/23/2022 Lunch and Learn Virtual Event #2     
Catherine Davis, an EquityLogic™ trainer from the Diversity Council, led this session that was jampacked with information on the topic of Moving From Orientation to Onboarding in our Attracting and Retaining Diverse Workforce series. 29 people were able to attend over the lunch hour and shared their experiences and ideas.
The following are resources provided by The Diversity Council following the event:
Accenture Inclusion and the Power of Diversity (video): Accenture Inclusion & The Power of Diversity | Accenture
Tips for onboarding and training employees with disabilities:   https://www.accessibility.com/blog/tips-for-onboarding-and-training-employees-with-disabilities
Remote work and accessibility:  https://www.accessibility.com/blog/remote-work-and-accessibility-assistive-technology
Understanding Employee Onboarding: https://www.shrm.org/resourcesandtools/tools-and-samples/toolkits/pages/understanding-employee-onboarding.aspx#:~:text=%22Onboarding%22%20refers%20to%20the%20processes,%2C%20vision%2C%20mission%20and%20values.
Incorporate Reasonable Accommodations Practices into your Onboarding Process (includes downloadable accommodation worksheet)   https://askjan.org/articles/Incorporate-Reasonable-Accommodation-Practices-into-your-Onboarding-Process.cfm?csSearch=3745239_1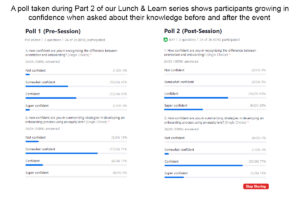 2/23/2022 Lunch and Learn Virtual Event #1   
37 attendees joined us over the lunch hour for education and connection. Our instructor was Catherine Davis, an EquityLogic™ trainer, whose energy was infectious and information was spot on!
"We need to make sure that everyone feels
supported and set up for success in their career."
The following are resources provided by The Diversity Council following the event:
"5 Must-Do's for Writing Inclusive Job Descriptions": https://www.linkedin.com/business/talent/blog/talent-acquisition/must-dos-for-writing-inclusive-job-descriptions
"6 Tips Inclusive Recruitment Writing": https://hiring.monster.com/help-center/traditional-products/job-ads/6-tips-inclusive-recruitment-writing/

"10 Ways to Reduce Interviewer Bias": https://www.linkedin.com/business/talent/blog/talent-strategy/ways-to-reduce-interviewer-bias
"Unconscious Bias in Recruiting" Video: https://www.youtube.com/watch?v=C-Dp372Jsj4
Tools for Reviewing Job Descriptions:
Textio: https://textio.com/
Gender Decoder: http://gender-decoder.katmatfield.com/
Readability Analyzer: https://datayze.com/readability-analyzer.php
Together we can attract and retain a diverse workforce that includes all!
---
2/15/2022 – Disability Reframed                   
Ashley Harris Whaley's discussion on CULTIVATING AN ANTI-ABLEIST WORKPLACE 
We had a great turnout, 283 people joined us! The participants asked great questions informed by the presentation and Ashley Harris Whaley graciously granted us some of her resources. Click on the links below.
Takeaways from the event –
What does allyship look like?
Advocating for continued workplace flexibility
Ensuring digital accessibility
Eliminating any assumptions
Listening to specific needs of your colleague(s)
Educating yourself on disability history and issues faced by the disability community
"I wanted to take just a second to thank you and the MaxAbility committee for the training yesterday. I enjoyed it and learned many things. Right after the training I was reading some text for an upcoming radio spot and it occurred to me that some of the wording may be off-putting to someone with a disability. We easily changed it and although it was a small thing, I feel like that is the kind of change that might make a difference to someone. Thanks for helping me and others see things through a different lens." -Webinar Attendee
Further resources:
Disabled People's Preferred Terminology
Resources on disability representation
---
2021
International Day of Persons With Disability – 12/2/21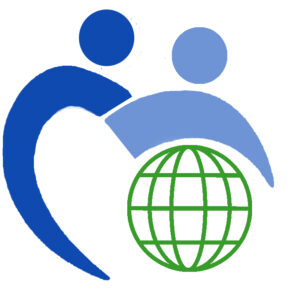 The 5th Annual International Day of Persons with Disabilities Celebration encouraged us to include the disability lens on everything! We were emboldened to increase collaboration between local, state, and national resources for better outcomes for disabled people and other underrepresented groups. We need to see ourselves as "advocrats." A phrase coined by one of Judy Heumann's friends, our keynote speaker. She defined an advocrat as someone who recognizes a problem, connects with disabled people living those experiences, and together solves the problem.
Each year we enjoy the opportunity to celebrate together and to re-connect. This was especially important to so many as the pandemic continues to be isolating. We could feel the joy at The Castle, and in the chat during the Art Exhibit and Celebration of Talent!
View the fireside chat with Judy Heumann as well as other event videos from the evening by clicking here.
---
Bite Sized learning modules for employers, introduced in October 2021, are full of information and resources: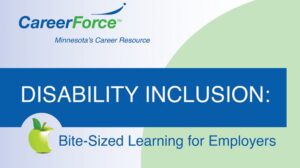 https://www.careerforcemn.com/disability-inclusion-bite-sized-learning-modules 
---
Career Connections Career Fair — 10/07/21
Employers were excited to connect with over 60 job seekers!
Comments we heard from job seekers included:
"This event was very helpful. I was able to set-up an in-person interview with [an employer] who I applied for."
"I appreciated the smaller intimate atmosphere of this event."
"I liked how there was a lot of employers to choose from."
Many thanks to the following employers who actively engaged in
Career Connections:
Ability Building Community (ABC), Avra Hospitality, Charter Communications, City of Rochester, Fastenal (Winona), Jennie-O Turkey Store, Kwik Trip, McDonald's, Mayo Clinic, Nexus Family Healing – Southeast MN Crisis Center, Olmsted County, Pace International, , Seneca Foods, Think Bank
---
MaxAbility Quarterly Network Meeting – 8/18/21
Recognizing and Implementing a Request for Reasonable Accommodations
Our key takeaways from the meeting included:
The best place to start is asking employees what they need regarding reasonable accommodations. Employees have lived experience and can work with their employer to find creative solutions.
A welcoming environment where employees feel supported sets the stage for interactive conversations to happen.
During new employee training, it is important to introduce new tasks one at a time and use a layered approach. This helps ALL employees to be successful.
Watch an Employee/Employer Success Story
Download the Bite Sized Learning Take Away Card
---
Film and Panel Discussion, Hearts of Glass June 2021
---
"Building an Equitable Workforce" presented by Angie Guenther, Metro Regional Quality Council Recording
---
2021 MaxAbility Reverse Job Fair Recording
---
MaxAbility Quarterly Network Meeting Recording – 2/24/21
Passcode: WKz7E9.q