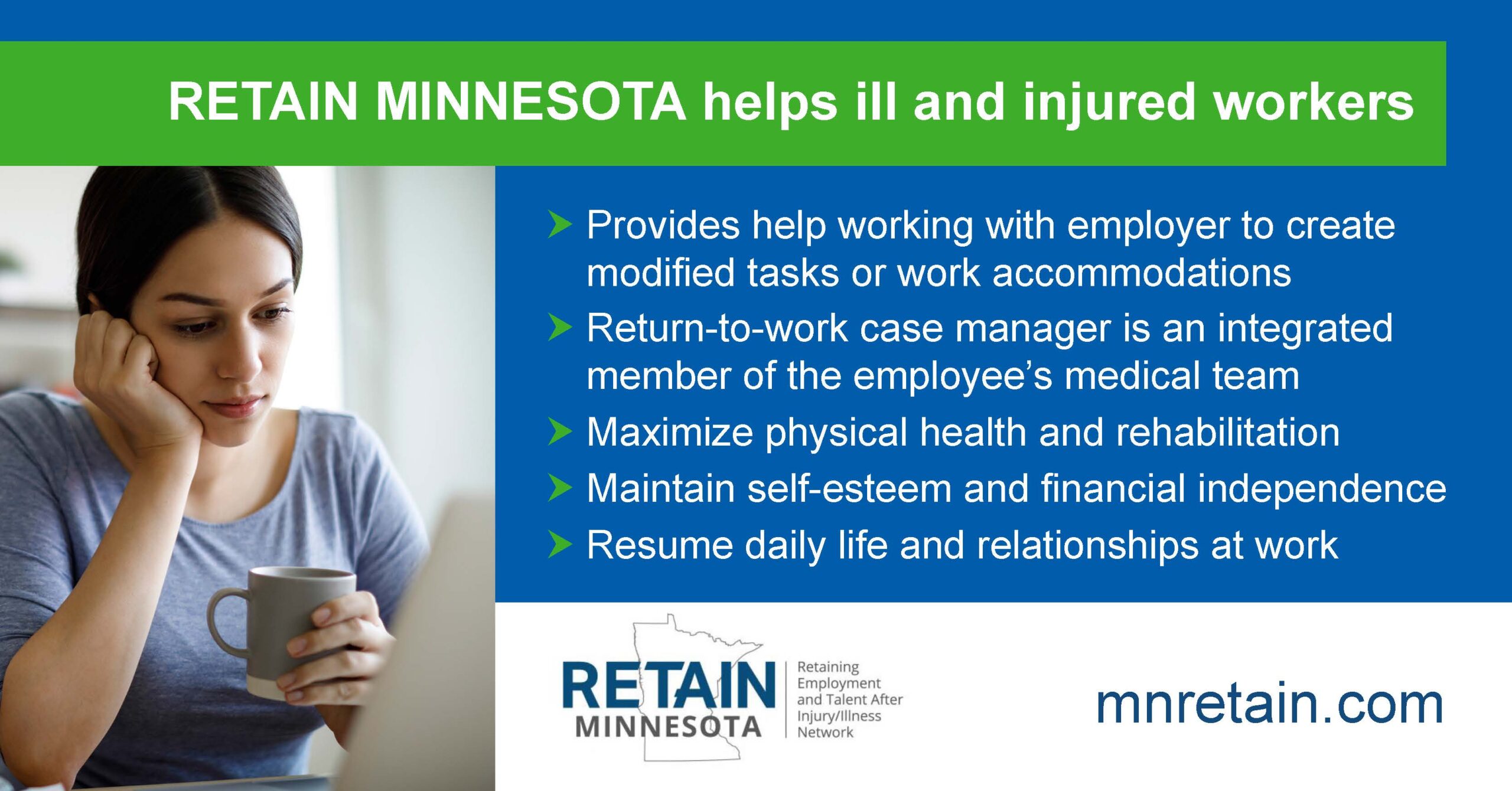 Workforce Development, Inc. has recently released a Request for Proposal for workforce development partners within the RETAIN Initiative. The Minnesota Retaining Employment and Talent After Injury/Illness Network (RETAIN) program's primary goal is to provide early intervention strategies for workers to stay at work or return to work as soon as medically possible after an injury or illness, occurring on or off-the-job. Minnesota RETAIN is different than many other stay at work/return to work programs because the Return to Work Case Manager is an integrated member of the worker's medical team.
Within WDI's specialized grant programs, the MN RETAIN program will be focused on awarding proposals that place an emphasis on providing career services.
VIEW RETAIN INFORMATIONAL WEBINAR
How MN RETAIN helps workers:
Maintain an employment relationship that provides job security
Maintain self-esteem and financial independence
Maintain job skills
Maximize physical health and rehabilitation
Resume daily life and relationships at work
If you meet the following criteria you may be eligible for RETAIN:
If you meet the following conditions, you may qualify for additional services through the MN RETAIN program:
You live and work in Minnesota
You have worked within the past year
You have an injury or illness that affects work
If you meet all of the above requirements, email RETAIN@mayo.edu or call 507-284-4537 for more information. Outcomes of the program will be evaluated through the Minnesota RETAIN research study to assess the impact of return to work for participants who choose to enroll.
Access additional resources related to RETAIN: