……………………………………………………..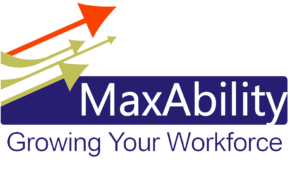 Mission: To maximize career success for people with disabilities as the trusted resource network for regional businesses.
Helping Employers Succeed by Creating
Disability-Inclusive Workplaces
MaxAbility Taskforce supports the Minnesota Olmstead Plan ideals: "…that individuals with disabilities will have the opportunity to live close to their families and friends, live more independently, engage in productive employment and participate in community life."
BEYOND LEGAL COMPLIANCE, PUTTING PEOPLE WITH DISABILITIES TO WORK
Workforce strategies for hiring people with disabilities can be key to achieving your goals:
………………………………………
MAXABILITY HELPS EMPLOYERS HIRE PEOPLE WITH DISABILITIES BY:
   Informing
Organized as educational forums, our Networking Meetings are unique opportunities to hear from  experts and learn from others working to develop inclusive workplace cultures.
   Connecting
Whether through our Reverse Job Fair or our strong alliances with key resources, we can help you find qualified job candidates that have disabilities.
   Advising
Have pressing questions or need help getting started? We will be happy to have one of our members meet with you to share their knowledge and insights.
   Celebrating
Join us for a day of inspiration and entertainment at our annual International Day for Persons with Disabilities observance.
UPCOMING EVENTS:
MaxAbility Quarterly Network Meeting:
When: August 18, 2021
Time: 8:30-10:00 AM
Location: Virtual Zoom Meeting
MaxAbility is excited to connect with you virtually to share a second Bite Size Learning session! At this meeting we will model the delivery of the new Bite Size Learning module and learn how you can connect with Community Resource Partners in your area.
8:30 a.m. – Welcome and MaxAbility Updates
8:40 a.m. – Bite Size Learning Module – Reasonable Accommodations
9:00 a.m. – Breakout Room Activity
9:15 a.m. – Employee Success Stories
9:45 a.m. – Q & A
9:55 a.m. – Conclusion
Recognizing and Implementing a Request for Reasonable Accommodations
Learning Objectives:
Define a reasonable accommodation
Recognize and accommodation request
Understand the interactive process
Please contact Heather Grummons to request an accommodation.
       Registration: Free and open to all employers and public.
For a list of past events and resources, CLICK HERE
Download a MaxAbility brochure HERE
Follow MaxAbility on Facebook: