About MaxAbility ….. 
Started in 2014, MaxAbility Taskforce is a dynamic, volunteer collaboration of local professionals with a broad range of experience in disability hiring. Our focus is providing personal assistance to others in our region looking to develop productive, disability-inclusive workplace cultures.
Our Mission:
To maximize career success for people with disabilities as the trusted resource network for regional businesses.
MaxAbility Helps Employers Succeed By:
Informing
Organized as educational forums, our Networking Meetings are unique opportunities to hear from experts and learn from others working to develop inclusive workplace cultures.
Connecting
Whether through our Reverse Job Fair or our strong alliances with key resources, we can help you find qualified job candidates that have disabilities.
 Advising
Have pressing questions or need help getting started? We will be happy to have one of our members meet with you to share their knowledge and insights.
Celebrating
Join us for a day of inspiration and entertainment at our annual International Day for Persons with Disabilities observance.
Workforce Strategies for Hiring People with Disabilities:
Fill Job Openings Faster
Recruiting people with disabilities increases the number of qualified talent to your candidate pool. (1 in 5 people have a disability)
Reduce Turnover
Workers with disabilities are strong performers with high loyalty and low absenteeism.
Innovative Solutions
People with disabilities bring unique perspectives and new approaches to problem solving and operational improvements.
Improve Productivity
Hiring people with disabilities can help raise engagement and commitment within your broader workforce.
Increase Revenue
Consumers with and without disabilities prefer to give their business to companies that hire individuals with disabilities.
Meaningful Social Connections
Working within your community to create a workforce that reflects your community enhances your brand and value.
.
.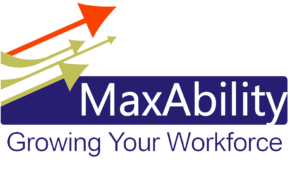 Download a MaxAbility brochure HERE
Follow MaxAbility:
Subscribe to our email notifications about upcoming events:
Contact Us!